We're doing it again!!  Our team will be hosting a fun all-day event on Saturday, October 2 to celebrate World Card Making Day!
All are welcome to join us!  Our Facebook page is set up and ready for you all to hop in!  here is the link to join:
https://www.facebook.com/groups/inkinkrewworldcardmakingday
Once you get to the Facebook page, click the "join" button at the top and we'll get you approved just as quickly as we can!!  Looking forward to see you there today!
If you're interested in the live video schedule, here is our plan: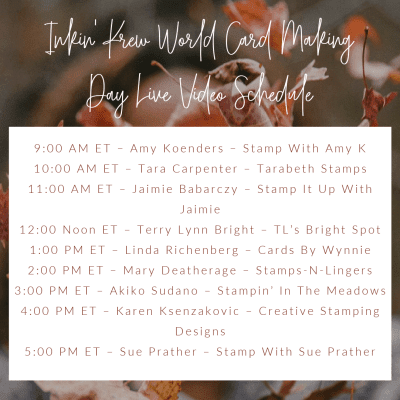 The live videos will start at 9:00 AM ET and will run through about 5:30 PM ET.  We'll also be sharing card projects and doing some fun giveaways too!  Come celebrate World Card Making Day with us!  I'll be presenting Live at 5:00 PM ET.
If you can't watch the Live presentations, no worries!  The Inkin' Krew World Card Making Day event page will remain open indefinitely and the videos will be there so if you aren't able to join us live, you can come watch the replays any time!
Use Host Code PGKVPJ3K when placing orders over $50 and get a free gift from me!  If your order is over $150, do not use the host code, and you'll still receive a free gift from me!
---
DID YOU KNOW???  Did you know that if you select "No Contact" when placing an order that I can't see who ordered from me?  That means I can't thank you and I can't send you a free gift.  Oh, no!  Please let me see your contact information – we'll both be happy!  If you've placed an order from me that I haven't acknowledged, please contact me or leave me a comment
---
How Can I Help You?
Questions? You can Contact Me HERE.  If you need any stamping supplies, I'd love to be your Demonstrator.  Just click on the Shop Online With Me button on the top right side of the screen to go directly to my online store.